Regular window washing costs in Ann Arbor are well worth any price, as consistent, professional window cleaning enhances your home's curb appeal and protects exterior window glass and screens. Built-up dirt, sand, silt, dust, and other debris scratches and etches window glass, leading to long-term damage and the need for window replacement or repair.
Window washing costs in Ann Arbor are often figured per pane. National averages for professional window cleaning run from $2 to $5 or more per window pane, so window cleaning costs in Ann Arbor might average around $200 or more per house.
Every homeowner should be scheduling regular window washing in Ann Arbor, as well as power washing exterior walls and driveway pressure washing as well. If you haven't scheduled Ann Arbor window cleaning in several years, check out some reasons why you'll want to call a window washing contractor in Ann Arbor and also schedule residential pressure washing for your beautiful Ann Arbor home as well.
How Are Window Cleaning Costs Figured?
Your window cleaning contractor in Ann Arbor will figure his or her own prices and rates, but there are some typical window washing costs that might affect your overall charges, including:
When was the last time you invested in professional window cleaning? If your home's exterior window glass is caked with mud, layers of thick dirt, sand, silt, dried-on cobwebs and other insect nests, and any other debris difficult to clean, you might face an "added filth" charge from your Ann Arbor window washing company.
Most window washing costs are based on standard-sized window panes. Oversized bow windows, casement windows, large picture windows, and oddly-shaped windows might incur added costs for window cleaning.
Windows covered in paint splotches, hard water stains from a nearby pool, pet stains and waste, residue from coatings used on nearby decks or other wood features, motor oil, and specialty stains such as these might mean added cleaning fees.
Consider if your home's windows are obscured by low-hanging tree branches or if they're difficult to reach due to an extremely close fence, tall shrubs, prickly rosebushes and other landscaping features, or are difficult to reach for any reason. An Ann Arbor window washing contractor might charge more for cleaning windows behind various obstructions or that require special ladders and other tools to reach.
Window washing in Ann Arbor often includes screen washing and wiping down frames and trim. However, it's vital to ask if this service is included and if you'll face added charges for screen cleaning, hand washing of window grilles, and other specialty features in and around your home's windows.
Should You Buy Window Cleaning Equipment?
While a homeowner can buy window cleaning equipment and wash windows of an Ann Arbor home on their own, proper glass cleaning is often more difficult and dangerous than you might realize. Streaks on windows are common even if you use a squeegee or tools meant for window cleaning, and you might not realize you've smeared dirt and mud across the front of window glass until you inspect those windows from the inside or until sunlight hits that glass.
While pressure washing equipment allows you to reach upper story windows, too much pressure might shatter a window pane! It's also easy to bend screens and etch or scratch wood sills and trim or to scratch window glass with scrub brushes, a dirty squeegee, and even harsh detergents.
A professional power washing company also uses proper techniques for window cleaning an Ann Arbor home. For instance, a window washing contractor knows not to allow detergent to dry on window glass so that it doesn't become abrasive or leave streaks behind. It's also vital that anyone washing windows knows how to keep themselves safe when on a ladder or when using electric-powered machines near standing water.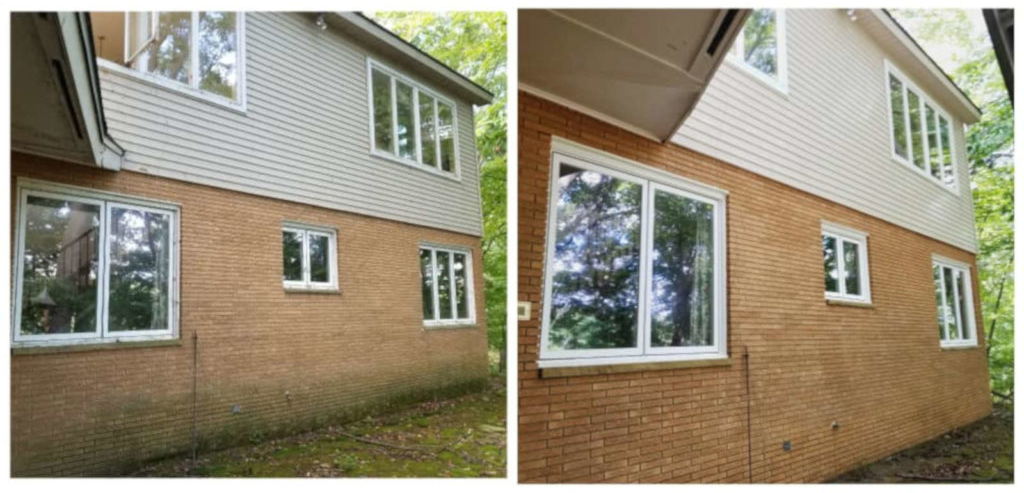 When Should You Schedule Ann Arbor Window Washing?
Consider annual window washing of an Ann Arbor home, to remove grit, grime, dirt, and other residues built up over the past year. Annual window washing also allows you the chance to examine the windows for cracks, chips, and other damage needing repair.
Window washing after a particularly stormy summer removes dirty residues left behind by rain and strong winds, including acid rain residues, sand, silt, dust, and muddy debris.
If you have an outdoor patio or deck you enjoy using during summertime, consider window cleaning and power washing a home in the springtime, to ensure your property's outdoor area is clean and pristine and ready for relaxing! Power washing removes mold and mildew from decks and exterior walls, so consider scheduling this cleaning along with window washing every spring.
Consider window washing after any exterior renovation project or repair work. For example, digging up a part of your yard for a new garden or roofers tossing shingles off the house and into a nearby bin might result in lots of airborne dirt and dust settling onto exterior window glass.
Commercial buildings need window washing often, even every week! Restaurants and medical facilities especially should always look spotlessly clean inside and out, and clean glass outside a storefront creates a welcoming, inviting look.
Never allow layers of sand, wet mud, and other debris to sit outside window glass. Dirty residues act like sandpaper against glass, weakening it over time. Schedule window washing in Ann Arbor if you notice exterior glass covered with thick dirt and grime.
Schedule window washing if you also notice cobwebs and insect nests around the windows. Washing away insect nests and spider webs reduces the risk of these bothersome pests making their way inside your home!
Remember that your window washing cost in Ann Arbor is an investment in your home or office building. Professional window cleaning protects glass from long-term damage while creating a beautiful view inside and out! Paying a professional also keeps you safely away from dangerous power washing equipment and ensures your Ann Arbor window washing gets done right!