Regular gutter cleaning in Ann Arbor, Michigan, protects a home against water damage and stains. Clean gutters also help ensure healthy landscaping features right outside the home! While clean gutters are vital for ensuring your home is in good condition, this task is best left to the professionals, to ensure it gets done right.
Before you decide that you can manage your needed gutter cleaning in Ann Arbor, or go another year without scheduling this service, you might consider some vital factors about the function of gutters and why they need to stay clean and clog-free. It's also helpful to review some benefits of calling a power washing company in Ann Arbor for needed gutter cleaning, as well as added pressure washing services you might schedule around your property.
Why Your Home Needs Gutter Cleaning in Ann Arbor
To better understand how often you might need to schedule gutter cleaning in Ann Arbor, first note the function of gutters! As rain and melted snow roll down a home's roof, this moisture is then collected in gutters. Those gutters are tilted slightly so that the water then runs to nearby downspouts, which direct it away from the home.
Clogs where gutters and downspouts meet, or gutters caked with thick dirt, mud, and other debris, allow rainwater to build up rather than run freely away from the home. Roofing shingles and tiles as well as wood trim then absorb that water, softening and crumbling while allowing mold and mildew to grow.
Once water in gutters reaches a certain level, it then washes over their sides and runs down a home's exterior walls and window glass, leaving unsightly streaks and stains. Water running down brick walls tends to soften that material, leading to chips and cracks, and makes its way into holes in siding, risking interior water damage.
Water washing over a home's sides then pools around its foundation, risking cracks and damage to exposed concrete. That excess water is also typically very unhealthy for landscaping features and might also dislodge mulch and borders. Depending on rainfall amounts, you might also see very unpleasant water pooling around your lawn, which is unhealthy for your lawn!
Regular gutter cleaning on an Ann Arbor property helps wash away built-up dirt and mud as well as storm debris. This ensures clean, clear gutters that direct excess water away from a home as they should, protecting your house and lawn from damage.
How Often You Need Gutter Cleaning in Ann Arbor
Most homeowners might need gutter cleaning every other year or every three years at most. While this schedule can work for many homes and ensure clean, clear gutters, there are some reasons why it's recommended that you schedule professional soft wash gutter cleaning in Ann Arbor every year.
One vital consideration is harsh Michigan weather! Strong storms including heavy snowfall often means lots of debris ending up on area roofs; when it rains or the snow melts, this debris is then washed into gutters. It doesn't take long for that debris to build up, risking clogged gutters and downspouts.
Accumulating moisture around a home's gutters also increases the risk of mold, mildew, moss, algae, and other such contaminants, as said. These residues not only risk damage to gutters, they are also very unhealthy. Frequent gutter cleaning keeps them free of these bothersome contaminants, reducing the risk of them spreading along the roof, while also improving outdoor air quality.
Ann Arbor, as many people know, is also home to many busy roadways, and the very large and active University of Michigan! Along with all that heavy vehicle traffic in and around the city, there are also lots of planes overhead, heading off to Detroit Metropolitan Airport and the many smaller airports in and around Ann Arbor.
Vehicle and air traffic means layers of airborne soot and ash that settle onto roofs and in attached gutters. This soot and ash can dry out and build up, leading to an unsightly mess and the risk of clogs. The closer you are to the university or a busy roadway, the more often you might need Ann Arbor gutter cleaning!
Some homeowners might need more frequent gutter cleaning simply because they cook outdoors, sit on their patio and smoke, or otherwise create airborne dirt, soot, ash, and similar debris. Gutter brightening, or whitening the undersides of gutters, removes unsightly smoke stains and ash, leaving behind a clean and pristine surface that enhances your home's appearance overall.
What is the Best Ann Arbor Gutter Cleaning Method?
Before you decide to rent some pressure washing equipment and try to tackle your home's gutters, or any other pressure washing for an Ann Arbor home, you might note some reasons why soft wash systems are recommended instead. One vital consideration is that layers of caked-on "gunk" might require lots of work to break up and remove, but using too much pressure around gutters might pull them away from connectors and create lots of messy splatter.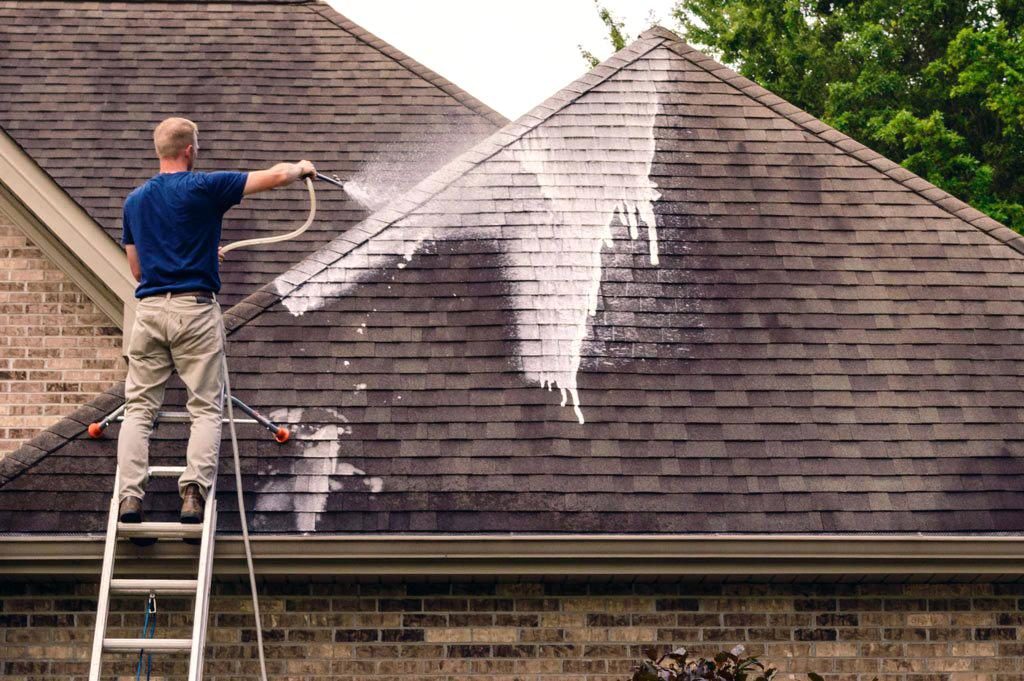 Soft wash systems provide a thorough, effective gutter cleaning in Ann Arbor, without risk of damage or splatter. Soft wash pressure washing starts with a specialty detergent or surfactant applied to the area needing cleaning; this surfactant then sits for several minutes, dissolving thick dirt, mud, and other grime.
Once residues are dissolved as needed, low-pressure rinsing, typically just a bit more powerful than a standard garden hose with a spray nozzle, is applied to remove all that dirt and grime. This low-pressure washing reduces the risk of gutter damage as well as messy splatter and residues. Surfactants and detergents used for soft wash systems also help kill mold, mildew, algae, and other bothersome debris, protecting your house while creating a safe, healthy outdoor environment.
Soft wash pressure washing is also a very eco-friendly method for gutter cleaning in Ann Arbor, as it typically uses far less water than your average pressure washing services! While a pressure washing wand helps disperse lower amounts of water over an area needing cleaning, soft wash systems typically use even less water than power washing.