No matter your roof cleaning cost, it's vital that homeowners and commercial property owners invest in this service regularly. Roof cleaning not only improves curb appeal but also removes thick grit, silt, soot, storm debris, and other residues, protecting a roof from damage and prolonging its lifespan
Typically, roof cleaning costs average between $0.20 and $0.60 per square foot. Homeowners might expect to pay between $250 and $590 in total for roof cleaning, or around $400 on average, while commercial buildings are often pricier due to their larger size.
While you might hesitate at paying a few hundred dollars for roof cleaning, this service provides many benefits for homes and commercial structures, as said. Reviewing some of those benefits in detail can help you make the right decision when it comes to professional roof cleaning and other power washing services you need to have done!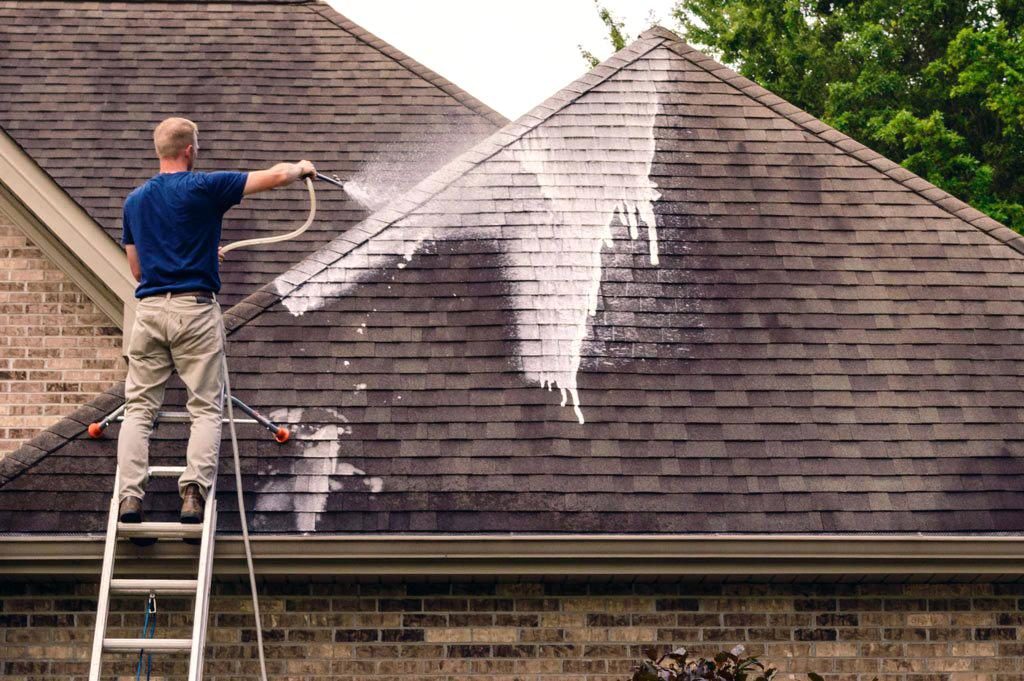 Knowing a bit more about the roof cleaning process also helps you better understand how a contractor estimates this cost, as well as some hidden fees to avoid. It's also beneficial to note why this job is best left to the pros! Before you put off roof cleaning for your property, check out some vital information about this service and then discuss your needs and options with a power washing contractor near you.
Understanding Roof Cleaning Costs, and Hidden Fees to Avoid
When getting roof cleaning cost estimates, you might wonder why prices vary so much from contractor to contractor, or why your quote is so different from one given to a neighbor on your same block! To better understand roof cleaning costs, note a few details about how most contractors come up with their final quote, and some hidden fees to avoid.
Most power washing contractors will start with a base price, which provides general cleaning of a relatively flat roof with few obstructions.
Dormers, peaked roofs, skylights, and other such obstructions that must be avoided or worked around will typically add to your cost. Working around these obstructions can mean more time for a power washing contractor, so he or she might increase your costs accordingly.
Stain and spot removal might also add to your cost. Salt buildup, water marks, excessive bird droppings, rust stains, and other such spots require more work and cleanser, so your contractor might add an average of $50 to $100 or even more to your estimate for tough stains and especially for first-time cleanings.
Thick mold, mildew, or algae growing between shingles are difficult to clean and might need added scrubbing or specialty cleansers to dissolve. As with stains, you might need to pay an added fee for overgrown contaminants and especially for a first-time cleaning.
If your structure's roof is prone to moss, mildew, mold, or algae buildup, a power washing contractor might offer a preventative treatment, applied after cleaning. These treatments prevent or at least slow the formation of debris on your roof, and often cost around $150 on average.
In some areas, strong storms might deposit lots of leaves, sand, twigs, and other debris onto a roof. If this debris is so thick that you can see it from the ground, it might be cumbersome to clean so your contractor will need to increase your price slightly.
Roof cleaning costs by material
Different roof materials might require different cleaning methods, which can affect your final costs. Note how roof pressure washing contractors might adjust their charges according to your home's roofing materials:
Slate is durable but might crack under the weight of foot traffic. Some roof cleaning contractors will use a lift or "cherry picker" to clean a slate roof without walking on it. If your contractor needs to rent this equipment, this can add to your roof cleaning cost.
Metal roofs might also dent or ding, while it's often best to avoid walking on rubber commercial roofs, to avoid potential damage. As with slate, a pressure washing contractor might need specialty equipment to wash these surfaces without actually walking on them, adding to your costs.
Wood roofs are more prone to damage during pressure washing than asphalt shingles, and your contractor might need to use specialty treatments designed to kill mold on a wood roof. These treatments can add to your costs.
Hidden fees to avoid
Most roof cleaning contractors are trustworthy professionals, dedicated to ensuring a quality job at a fair, honest price. However, to ensure you don't end up paying for services you don't need, or hiring that one random contractor who might overcharge you, note a few hidden fees to avoid when hiring a roof cleaning professional!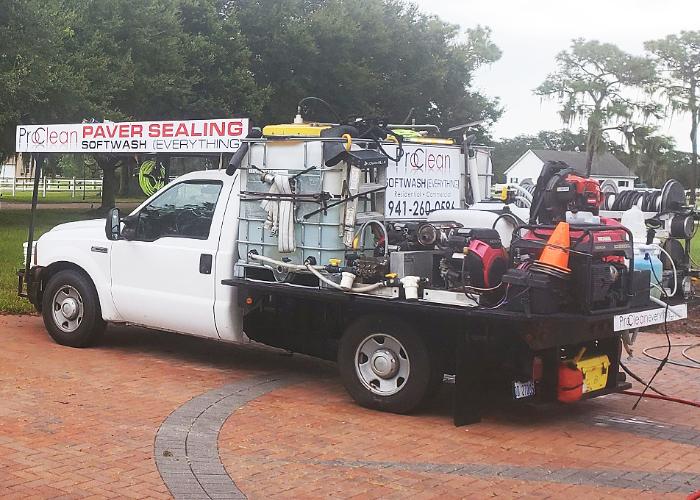 Note if your roof cleaning contractor wants to charge extra for added crew members. This can be an issue if certain crew members don't stay for the entire cleaning while you're still being charged for their time. Most reputable contractors will simply adjust their overall charges for especially filthy roofs or those needing extra attention, and then bring whatever crew, tools, and cleansers are needed to get the job done properly.
Small amounts of mold, mildew, moss, algae, and other contaminants should come clean with standard roof washing. If you've neglected regular roof cleaning over the years, your contractor might charge extra for thick, stubborn stains, but you shouldn't face added charges for mold and algae every year or for small amounts of debris.
A homeowner might consider gutter cleaning, window washing, chimney stack cleaning, and other pressure washing services while contractors are on your property, as these services all protect a structure from damage while improving curb appeal. However, these services should be a choice and never tacked onto your bill without first checking for your approval!
Soft wash cleaning is best for asphalt shingles as well as clay and ceramic tile, as high-pressure rinsing can strip granules off shingles and potentially crack some tile materials. A company that specializes in soft wash systems typically won't charge extra for using this method, so be wary of a contractor who wants to charge extra for soft wash cleaning!
Roof Power Washing Benefits
It's never a good idea for a homeowner to power wash their own roof, as improper cleaning methods, the wrong tools and equipment, and harsh detergents can damage shingles, tiles, and other materials easily. Using too much pressure can also crack clay or slate tiles, dent metal panels, or strip granules from shingles or blow those shingles right off the roof!
However, professional roof cleaning offers many benefits and should be scheduled regularly, especially for homes and commercial structures in tropical areas, near deserts and beaches, and those located close to busy airports and highways. Stormy weather, airborne sand and grit, and soot and air pollution in these areas all end up on nearby rooftops, risking premature damage and creating an unsightly mess!
To ensure you're protecting your home or business and keeping it looking its best, check out some added details about why you should consider regular roof washing no matter your location, and should increase the frequency of cleaning based on your location:
Storm debris, leaves, and other damp residues can soften asphalt shingles and increase the risk of rusted nails and other connectors. Damp debris can also mean rotted wood decking, meaning the layer of plywood underneath your roofing materials. If you live in an area with heavy rainfall, consider frequent roof washing.
Sand and other gritty residues can scratch and etch tiles and shingles, also risking premature damage. Homes and commercial buildings near beaches and deserts need regular roof cleaning, to remove thick layers of sand, silt, and other gritty debris.
Drying soot and air pollution residues lead to dry and brittle shingles and tiles, which are then more prone to splitting and other breakage. The closer you are to a busy highway, airport, marina, racetrack, production facility, or other structure producing extra air pollution, the more often you should schedule regular roof cleaning!
Thick debris and especially moss and algae work their way under and between shingles and tiles, loosening them and lifting their connectors. The longer you ignore this debris, the more likely it is that you'll lose those tiles and shingles during a strong storm or in high winds! Tropical areas mean high humidity levels, encouraging this growth, so consider regular roof cleaning for structures in these places.
Roof debris also tends to end up in a home's gutters, increasing the risk of clogs. Rainwater then washes over the sides of those gutters, running down exterior walls and pooling around the foundation. This can mean water damage to exterior walls and window glass as well as costly foundation damage! Avoid this risk with regular roof cleaning.
Washing away mold, mildew, pollen, dust, and other irritants means improved outdoor air quality and even easier breathing when you're outdoors. Even if you don't tend to suffer from allergies, asthma, or other such health concerns, consider regular roof cleaning to remove these irritants from your home's exterior.
Homeowners and commercial property owners are also often surprised at how regular roof cleaning improves a structure's overall appearance, removing unsightly dirt and grime and enhancing a roof's overall color. Your property will look brand new when you invest in regular roof cleaning and other power washing services!
Can I Clean My Own Roof?
A homeowner should never clean their own roof! Not only does DIY power washing risk damaging tiles and shingles, but being on a ladder or the roof itself during washing is downright dangerous. It's even more difficult to keep yourself safe when managing cumbersome power washing equipment or trying to walk around a damp roof.
A professional power washing service will also ensure a thorough job, cleaning all the cracks and crevices of your home's roof and eaves. A trained roof cleaning professional ensures that all dust, insect nests, soot, grit, and other residues are washed thoroughly, leaving nothing behind but a clean and pristine surface.
Property owners might also note that some roof warranties are voided if you manage your own pressure washing, because of the risk of damage. If your roof is still under warranty, it's vital that you invest in professional cleaning, so you don't unknowingly invalidate that warranty!
How Often Should I Get My Roof Cleaned?
Roof cleaning should typically be scheduled every two to three years at most. However, for structures in the tropics or that are prone to excessive filth for any reason, consider annual roof washing. It's also beneficial to schedule roof washing after a strong storm or if you notice stains, mold and other contaminants, or thick dirt on the roof.
Homeowners and commercial property owners should also remember that a roof might get dirty no matter its age! Never assume that new roofs are somehow resistant to dirt and mold growth, but schedule regular cleaning as needed whatever the age of your structure's roof.
Why Your Home Also Needs Pressure Washing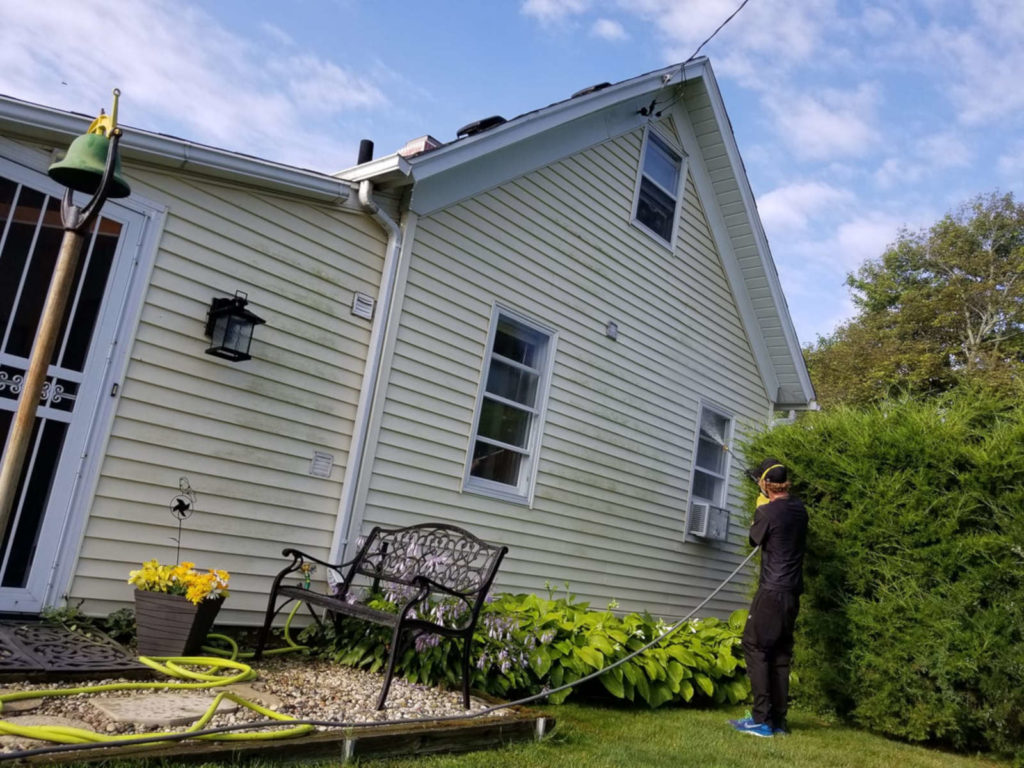 Other pressure washing services are vital for a home's overall condition, and you might consider adding these services when scheduling roof washing. Gutter cleaning keeps those gutters clean and clog-free, as said, protecting your home's exterior from water stains and damage.
Pressure washing also removes unhealthy, unsightly, and damaging debris from exterior walls. This includes dust, mud, pollen, lawn care chemicals and snow salt residues, air pollution and soot, and thick dirt and grime you can't remove with a standard garden hose. If you grill outside, pressure washing also cleans away all that unsightly smoke often clinging to walls behind your patio or deck!
Speaking of your deck, consider regular cleaning to remove growing mold and other debris from posts and slats. Patio cleaning also removes damaging sand, silt, and dirt from all those pits and pores along pavers and concrete, while driveway pressure washing also keeps your property's exterior clean and pristine.
ProClean Power Washing Ann Arbor is happy to provide this information to our readers and hopefully, it helped you better understand expected roof cleaning costs. If you know your home or commercial property needs roof washing, rely on our Ann Arbor power washing contractors to get the job done right! We offer FREE quotes and convenient appointments, so call today to find out more.