Pressure washing services are vital for any home, to protect outside materials and improve curb appeal. When you look for a pressure washing service, it's beneficial to know a few differences between pressure washing and power washing and how these both keep your home looking its best.
Dust, cobwebs, dirt, mold, and other residues become layered onto surfaces over time. Pressure washing will get into the grooves that have hard-to-reach dirt. Especially when you are applying new paint, it is crucial to remove any obtrusions on the surface so that the color has no problem sticking. Otherwise, it will chip off faster than usual.
If you haven't invested in pressure washing services for your home or office in many years, consider some reasons why it's time to call a power washing company and why you want to avoid doing this job on your own.
Why You Should Power Wash Your House or Business
Power washing is a great idea at any time of the year. It can completely renew the look of your house or business. Consdier some benefits of this service for your home or business:
Keeping the interior and exterior of your business clean and updated helps to drive sales in a positive direction. Most customers will avoid a company that looks like its owners do not take care of the building. If you do not keep the physical building clean, how can someone trust that you will keep their account and information safe and organized?
Cleanliness says a lot about a person, and the cleanliness of an office building says a lot about the company's work ethic. Even if it is not always true, that is the way the customer often sees and interprets it!
Power washing services remove chipped paint and weather staining. You can then repaint the surface if needed.
If dust and grime collect for too long, they can cause permanent staining and corrosion. Pressure washing services protect your structure from this damage.
If you are not familiar with how power washing or pressure washing works, here are the answers to some of the most common questions people ask:
How Powerful Is a Pressure Washer?
Power washing is a serious and sometimes dangerous task. Whether you are pressure washing or you are hiring a professional to do a pressure washing job for you, certain safety precautions should be in place and utilized at all times.
Pressure washers and power washers both use pressurized water to clean a surface. There is a slight difference between the two, which we will talk about in the next section, but both types can cause serious injuries if not used correctly. If you are not extremely careful, the water can cause severe abrasions due to the immense pressure.
Follow these safety tips when pressure washing or watch the professional you hired, to see if they are following similar precautions:
Keep the pressure or power washer spraying wand pointed towards the ground or wall you are cleaning; do not point it at yourself or others.
A gasoline-powered washer should never be used in an enclosed space.
Use the correct type of grounded power outlet, as indicated by the pressure washer.
Keep the power cord and any extension cords you are using out of water puddles created by the pressure washer.
Children should never operate the pressure washer and should be kept a safe distance away from the equipment at all times.
Some pressure washers are more powerful than others; gas-powered pressure washers usually generate between 2,000 and 2,800 PSI, and some washers produce even more pressure.
Professional pressure washer services typically use a pressure washer with a higher PSI, so they create the best results. However, you may want to ask the servicepersons what type of pressure washer they use, since it could have varying effects on different types of surfaces.
What Does a Pressure Washer Remove?
Most of the time, pressure washing is used to remove mold and dirt. Pretty much any residue that you cannot disperse with your hands or with a hose, you can pressure wash. Hire pressure washer services to clear mold and moss from a concrete boat ramp, remove dirt stains from a driveway, or strip off peeling paint from the front of your office building.
However, do not use a pressure washer on outdoor furniture or any other small or fragile objects. Outdoor surfaces like concrete, brick walls, or siding can be completely transformed by a good power washing; but according to consumer reports, it is not recommended to pressure wash your car or anything made of a flimsy material. Some cheaper sidings do not even do well under the intense pressure, but most vinyl and fiber cement sidings are perfectly fine.
When you hire pressure washing services, the person taking your information over the phone will ask you what you want them to pressure wash; and at that point, if what you wish to pressure wash is not going to be possible or safe, the company will likely not offer their services because of the liability risk.
What Is the Difference Between a Pressure Washer and a Power Washer?
Most who do not know the technical difference between "pressure washing" and "power washing" use the terms interchangeably. It does not create a huge problem if you use both terms; but when you are hiring a service company, you should specify which type you need. The professional will have an understanding of how pressure washing and power washing varies, so if you are not confident with which service to request, feel free to ask and they can make that decision for you based on their professional opinion and the type of surface you need washed.
There is only one difference between the function of a pressure washer and a power washer; power washers use a heating element to spray hot water, pressure washers do not. Why is it important to know the difference between pressure washers and power washers and to use one type over the other?
The hot water that comes from a power washer can damage certain materials. The heat can warp certain types of plastic, primarily because of the combination of heat and pressure.
When using pressure washing services, you do not need to worry about this since the professional will know what to do. Otherwise, you should follow the directions given in your power washer or pressure washer manual, it will tell you a general idea of what materials should or should not be power washed.
How to Hire Pressure Washing Services
Pressure washing services are available almost everywhere. To find pressure washing services, start by conducting a search online using the terms, pressure washing near me. This will give you a general idea of how many options are nearby and maybe even a star rating.
Before you select the first contact that pops up, do further research. The more research you do, the more likely you are to find a great pressure washing company.
When you begin your search, remember that the best pressure washing services will have:
Several years of experience
Overall positive customer reviews
Legitimate contact phone number (local area code)
Carries insurance
Follows EPA regulations regarding runoff water and uses chemicals that are safe for the environment.
If the pressure washing company is on a paid site that allows people to review contractors and local service companies, that is a great sign, and it will enable you to view further reviews from their previous customers.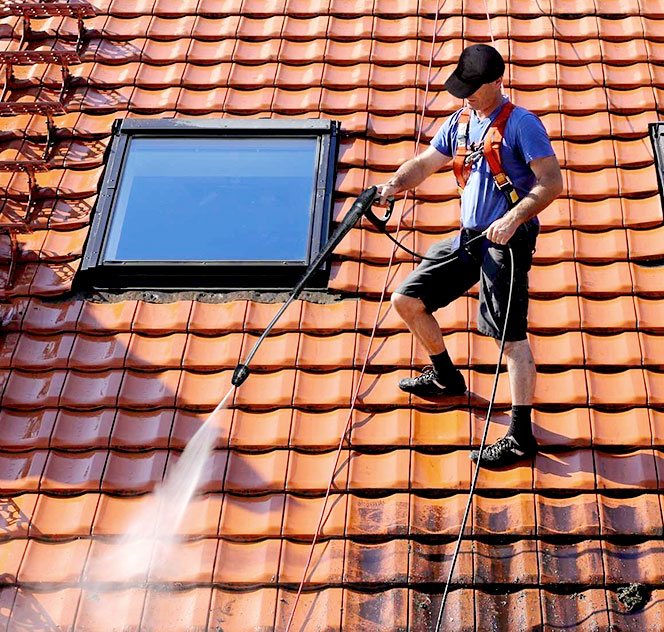 Pressure Washing Services Price
The price of pressure washing services depends on the size and type of project but note some national averages:
Siding – $220 to $380
Driveway – $130 to $220
Deck or Patio – $250 to $420
Of course, you can assume that pressure washing siding or an outdoor deck may be a much higher price if you have a large house. You also must take into account what a specific pressure washing service company charges; usually, you can get a more narrowed estimate by calling the company directly and explaining the job to them.
If you spend a large amount on the pressure washing job, remember that the pressure washing company has an insurance policy to financially protect you and your property. Keep in mind that many of these prices are only a rough estimate and may not account for extra labor costs or problems that may occur during the power washing.
Other Exterior Services to Consider
For restoring the exterior of a building and its surroundings, pressure washing is only part of the job. There are other quick maintenance tasks you can have a professional perform that will significantly improve a building or house's appearance in just a few days.
Some other exterior maintenance services you can hire a professional for are:
Gutter cleaning service
Landscaper
Window cleaning service
Painting contractor
Gutter cleaning service is at the top of this list for a reason. Lack of gutter maintenance can lead to the development of other, more severe problems, like a roof leak or flooding. Some companies that provide power washing services, also offer other general home maintenance, such as the ones mentioned in the list above.
Pressure Washing Services Summary
With the correct application, pressure washing can almost completely reverse the aging process of a building by removing staining from the environment, dirt, dust, and mold. You can even use it to pull off paint that is chipping so that you can repaint.
You should always be careful with what you are pressure washing because of damage that can easily happen if the material is not strong enough. That is why professional pressure washing services can be very helpful since they have experts on the job and know what to do and what not to do on certain projects.
When you find a pressure washing company, remember to ask about their insurance, prices, and safety procedures. If you ask nothing else, at least ask about insurance because that will protect your investment, and if a problem occurs while they are pressure washing, they will have to either fix it or reimburse you.