Hiring exterior house cleaning services will ensure your home always looks its best, enhancing your property's overall curb appeal and restoring the color of outside brick and painted concrete. Residential power washing and other such cleaning services are also an investment in your home's value, and hiring a professional for this work is not only convenient but a good financial decision as well!
The financial benefits of hiring exterior house cleaning services include:
Removing abrasive residue from brick and concrete.
Ensuring gutters are clean, to avoid clogs and resultant water damage to the home.
Removing damaging algae from a home's roof.
Washing away corrosive grime and mold from timber decks and fences.
Exterior house washing is not something to put off. Note some vital information about how pressure washing protects a home from potential damage and protects your property's overall value, and why you always want to hire professionals for this job rather than renting a power washer yourself!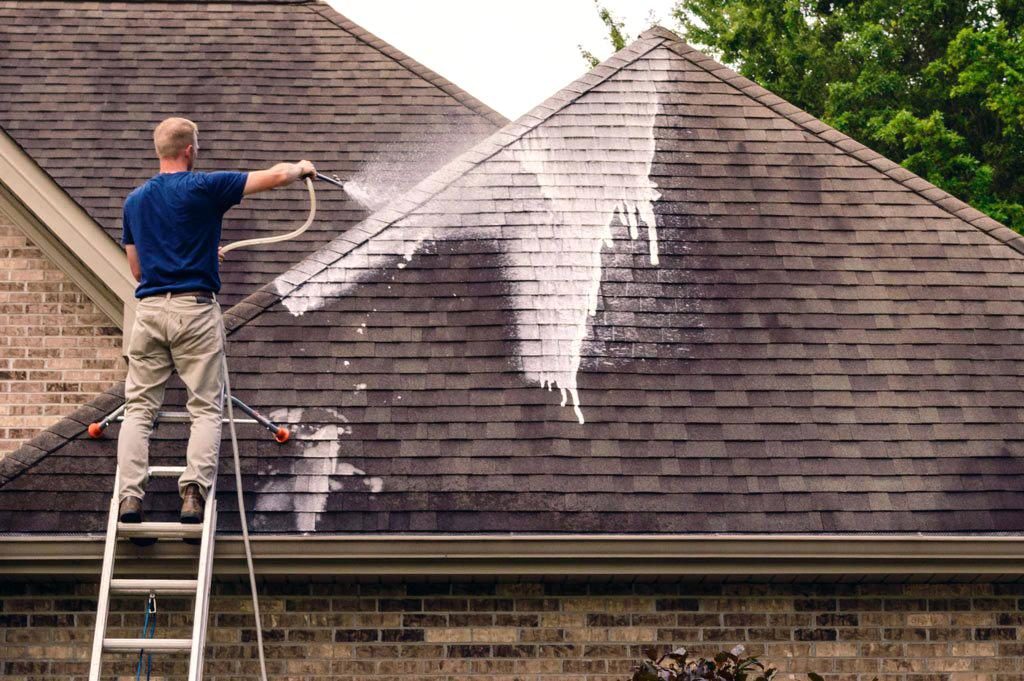 Why Every Home Needs House Washing
It can be useful to review in greater detail the potential damage caused to exterior surfaces when you neglect to clean them regularly. Understanding the risks to your home when you put off regular exterior house cleaning will ensure you know the importance of having pressure washing or soft wash cleaning done regularly, and why it's such a good financial investment for your property!
Gritty sand, silt, and other residues that work their way into the pits and pores of brick and concrete can cause etching and scratching of these materials, softening them and leading to cracks and other such damage.
Wet mud and grime hold moisture against the surface of exterior materials such as brick, concrete, roofing shingles, and the like; as this moisture gets absorbed, those materials become soft and crumbly and may eventually crack or split.
Gritty residues can etch exterior glass, weakening a home's outside windows and causing them to become thin and brittle.
Clogged gutters allow rainwater to run over their sides and down the exterior walls of a home, increasing the risk of interior water leaks. Rain might also pool around a home's foundation, leading to cracks and leaks inside the basement or crawlspace. A professional pressure washing or soft cleaning will ensure gutters are always clean and clear.
Soot, grime, and acid rain residues that settle onto a roof can dry asphalt shingles, causing them to crack, split, or crumble. Algae eat away at roofing tiles, also causing them to break and split; algae, moss, and mold growing under and around shingles can loosen those tiles and increase the risk of having them come right off the roof!
Residual motor oil and other automotive fluids, as well as fluids used in lawnmowers and other such equipment, will eat away at asphalt and concrete. Rinsing these fluids with a garden hose is not sufficient! A professional pressure washing or soft cleaning will remove all traces of these and other such corrosive chemicals.
Chlorine and other pool chemicals fade and otherwise damage timber decking and fences, and also damage concrete pool decks, patio pavers, and stone tiles.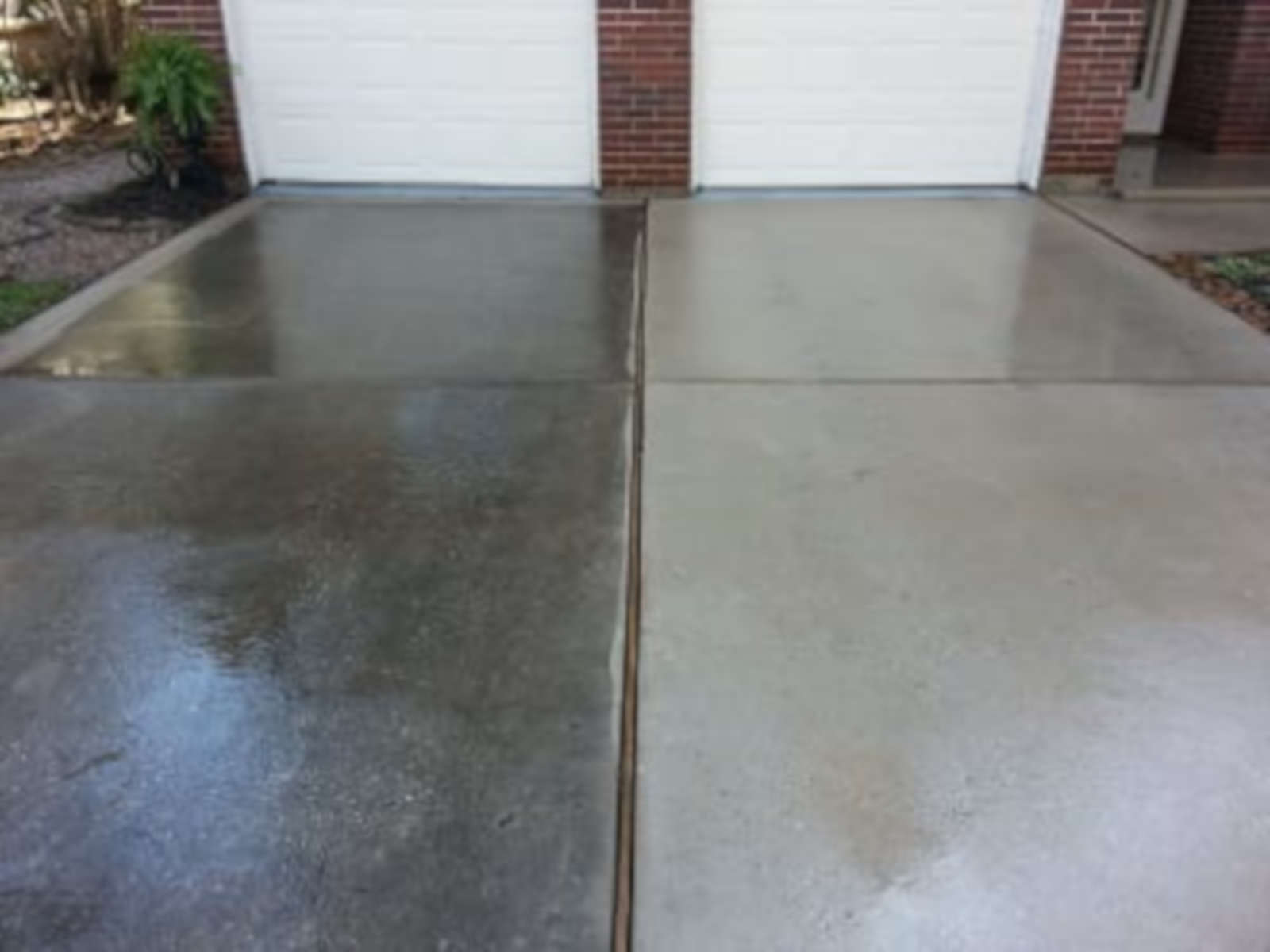 Hiring a professional for regular exterior cleaning services and the cleaning of your property's outside surfaces will protect all these surfaces from this potential damage, which is why regular pressure washing or soft wash cleaning is an investment in home maintenance.
Note some further critical details about washing various areas of your home in particular, and why regular residential power washing or soft cleaning is so vital. You might also note why these exterior house cleaning services are not DIY jobs!
Roof Washing Benefits
Every home needs regular roof washing, but especially houses located near the coast or any significant body of water. Airborne sand and silt from beaches settle onto nearby roofs, etching those tiles. Soot and grime from engines and machinery will cover homes located near airports and productions facilities as well as busy roadways, highways, marinas, and railways. These homes also need roof washing on a consistent basis.
Tropical or humid environments encourage the growth of mold, mildew, moss, and algae. As said, algae eat away at asphalt tiles, causing them to become thin and weak. These contaminants are also very unsightly, and mildew especially can create unpleasant odors that interfere with your ability to enjoy your outdoor space! If your home is located in a humid environment, schedule regular roof washing for your home.
A homeowner should never attempt roof washing on their own. Standing on a ladder with a power washer is very cumbersome and challenging, and spraying shingles from the bottom up can loosen them or blow them right off the roof. However, standing on a roof with a pressure washer is also difficult and dangerous, and can lead to falls and serious injuries. Always call a professional power washing company for roof washing you need to have done.
Your Windows Need Washing!
Gritty sand and other such abrasive residues etch outside window glass, while corrosive debris, such as acid rain residues, air pollution, bird droppings, and the like can also weaken glass, making it thin, brittle, and more likely to break on impact. This damage to window glass can also create small scratches that allow dust and dirt to settle, making the glass look streaky and dull.
Thin and brittle windows also allow in more heat and cold throughout the year, while also allowing out more of your central heating and air conditioning. Neglecting to have your home's windows cleaned can then actually result in higher utility bills, as well as a stuffy or drafty interior. Dirty windows also keep sunlight out of the home so that your interior spaces look dull and dim!
As with roof washing, window cleaning is not a DIY job. Using too much pressure on windows can cause them to outright shatter, and improper rinsing techniques will leave behind streaks and splatters. A professional window washer will ensure windows are clean and streak-free and safe from damage during the cleaning process.
Why You Need Exterior House Deep Cleaning Services
Exterior cleaning services should extend to all surfaces of your property, including the driveway and walkway, patio pavers and stone tiles, timber decks and fences, porches, and every other surface outside your house. Only professional power washing or soft wash cleaning will remove caked-on dirt and grime, as well as years of mold, moss, mildew, and other contaminants from all these materials.
Soft wash systems or pressure washing will also remove dirt and grime covering signs of needed home repairs! You may not realize that your home's driveway is chipped and cracked in certain areas, or that your home's wood fence has splits and chips that need immediate patching, as thick dirt and grime might be covering these areas and camouflaging that damage.
House deep cleaning services by a professional will also remove grit and grime that a garden hose cannot wash away, as well as termite tunnels, insect nests, and cobwebs clinging to a home's foundation or under its roof eaves. Deep cleaning also removes bird's nests around chimneys and roof flashing, protecting your home from damage caused by these and other such pests.
Why Hire a Professional for Exterior House Washing
Note a few additional reasons it makes financial sense to hire a professional for exterior house cleaning, versus renting a pressure washing and tackling these jobs on your own:
Different outer surfaces and types of dirt require various soaps and detergents. Buying a variety of cleansers and surfactants for your home is a waste of money, while a professional power washing contractor or local house cleaning services company will have different detergents available for the many exterior surfaces of your property.
Allowing detergent to dry on a surface before rinsing results in messy streaks that need additional cleaning, wasting both time and added soap! A professional exterior house cleaner will know how to clean away all the detergent used so that nothing is left behind and those outer surfaces don't need additional washing.
Someone inexperienced with house washing might easily overlook roof eaves, areas behind gutters and downspouts, and other such nooks and crannies around their property, leaving behind lots of damaging dirt, grime, and gritty residues. Investing in the services of a professional power washer ensures that no corner of your home or inch of your property is left unclean.
It's not unusual for someone inexperienced with the use of a pressure washer to assume that added pressure gets surfaces cleaner, but too much pressure can chip, etch, or otherwise damage wood, brick, and even concrete. A professional contractor will know the right pressure to use to avoid damage, and if different detergents or cleansers are needed to remove thick dirt and stubborn stains.
Related Questions
When should a homeowner have their house washed?

It's typically recommended that you wash your house during late autumn, to remove as much dirt and grime from summer storms, fall cleanups, and the like. Springtime power washing will remove residual snow-clearing salt from concrete surfaces and ensure your deck or patio is ready for summer.
Will pressure washing damage an older home?
Soft wash exterior house cleaning services are an excellent choice for older homes, as low-pressure rinses used with a soft cleaning won't dislodge roofing tiles or cause damage to brick, concrete, exterior window glass, and other such surfaces.